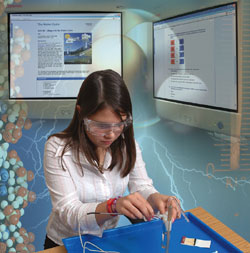 The Exploring Science Program
The Exploring Science curriculum has been specifically created for use with the SciTEK Science Cart. This comprehensive package of curriculum materials and hands-on practical experiment kits covers 79 different topics and provides 36 hands-on activities to support those topics. Each topic can be presented by the teacher as a front-of-class lesson.
Where applicable, the associated practical experiment can be performed by the teacher. If required, additional sets of the kits can be purchased, allowing groups of students to undertake the practical experiments themselves.
The unique design of the HTML-based "eContent" enables either a paper-based delivery, for situations where student access to computers is limited, or if there are sufficient computers, the materials can be delivered as student centered learning material. If the classroom management option is selected, all computer-based student activities and assessments will be automatically tracked and individual records made for each student.
Lessons are directly correlated to the NSES 6th, 7th and 8th Grade Science.
Hands-on practical work
Teacher presentations and assessments for the whole class
IT-based teacher resources including videos, animations and simulations
Data logging
HTML-based student lessons
Practice tests for standardised science assessments
Instant assessment and reporting options
On-line assessment and whole class practice system options
Comprehensive inquiry-based worksheets and labs
Mobile resources - make any classroom a science lab
Exploring Science Topic Areas
Click here to view the Exploring Science topic areas (pdf).