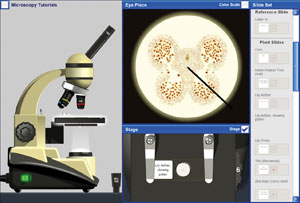 Turn any whiteboard into a fully operational microscope. The interactive nature of the software, coupled with the excellent tutorial section, enables teachers to effectively demonstrate the use of a microscope in the science lab. The students are then able to examine, via a computer, a series of microscope slides to address a wide range of curriculum requirements, including:
Plant slide set - Lily Anther, Lily Ovary, Corn Stem and more.
Animal Slide Set – Intestines, Ovary, Kidney, Pancreas, Blood Smear, Hydra and more.
Fungi Slide Set – Lichen (Foliose), Mushroom, and more.
Slide Micrometer and Reference Slide.
Create your own virtual slide – Onion Skin, Human Cheek Cells and Pollen.