Hampden Time-Run and Custom Test Boards
(Click on image for more detail)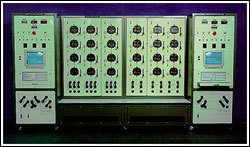 Increased requirements for testing Time-of-Use, Demand, Pulse Counting, and Recording Register meters has taxed the resources of existing meter testing laboratories.
Increased workloads have brought about needs for modern, safe testing consoles with added functions and capacity.
The many forms of meters and options available for the forms have made it economically feasible to design test consoles to specific custom requirements.
Hampden has worked closely with the Utility industry for many years to provide them with equipment that is specific to their needs and requirements. The units shown here were designed by Hampden engineers based on criteria supplied by the utility customers.
A typical Time-of-Use Demand board is shown, utilizing computer-control of voltage, current, and phase angle, for open-link testing. The sockets are S-base for single-phase meters.
System features, which can be provided by HAMPDEN, are:
Automated control
Current ranges up to 320 Amps
Multiple voltage ranges
Multiple test stations
Overall accuracy down to 0.5%
Varying meter burdens

Phase angle control (Manual or Automatic)
Digital displays
Pneumatic, manual, or electric test sockets
Customer-selected Reference standard
KYZ counters for each test station
Automatic Voltage and Current shut-down modes
Safety features, which can be provided by HAMPDEN, are:
Emergency shut-down pushbutton
Power-on indication
Circuit breaker protection
Open current circuit - Shut down
Switching under power - Shutdown
20-amp limit for transformer- rated meters

Test sockets locked - during testing
All test sockets must be closed, before any can be opened
Maximum allowable current is 110% of the selected range
Phase-B voltage interlock for forms 5 & 13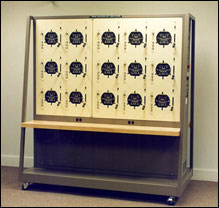 Hampden Meter Warm-Up Boards
A variety of custom-built boards have been supplied for the Electric Utility industry which provide warm-up facilities. Available in wall-mount or mobile configurations, these systems can be designed for a single application, or can be a multi-form unit capable of maintaining different forms concurrently.
Many different variations are available, including this HAMPDEN-built, thirty position, double sided, mobile warm-up board designed to supply five voltages to seventeen meter forms.
This warm-up board consists of thirty manual disconnect S-base sockets, each with circuit breaker protection, voltage selection switches and form selection switches. Each socket includes indication that the meter is fully inserted and that power can be energized.
The main power circuit breaker and pilot light are located on the side, between both faces.
The test device consists of one mobile, resistance load, closed-link, load-check board, double faced, with provisions for supplying potential and current to sixty (60) Form-2S meter sockets.
Each meter supply station consists of a quick disconnect test meter socket.
Two 1/2 amp resistance loads are provided, one for each side, for loading of thirty (30) meter sockets.
Each resistance load includes a 3-1/2" 2% accurate voltmeter and ammeter.
A variable rheostat is used to adjust the amount of load, in conjunction with a current limiting resistor.
Protection is through a primary circuit breaker.
The board is double-faced, with half the test sockets on each side.
Input power is 120 volts, 60Hz, 10 amperes, through a 10ft. long 3/c cord.
Hampden Single Socket Portable Warm-Up Board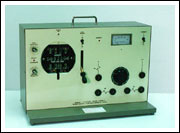 The Hampden Single Socket Portable Warm-up Board is a manual quick disconnect socket designed to accomodate customer specified multi-form testing.
Included are two selector switches, one for form selection, and one for voltage (customer specified) selection.
The voltage source is controlled with a primary circuit breaker/switch, with an indicating pilot light showing when the voltage is on.
A carrying handle is provided.