(Click on images for more detail)
The increasing use of automation by power and process plants has resulted in a growing demand for personnel versed in Electronics, Mechanics and Automatic Control Theory. To assist those responsible for training operators, technicians, and maintenance personnel, Hampden supplies a unique Instrumentation and Control Systems (ICS) Training Program, consisting of four single-loop simulators that may be interconnected in various ways to provide multi-loop systems.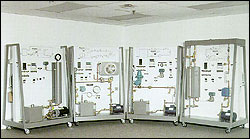 Each of the four simulators demonstrates a different type control scheme. Each contains field and panel mounted instruments from such manufacturers as Fisher, Foxboro, Taylor, Leeds & Northrup, Bailey, Rosemount, and Moore. The customer may select standard units or tailor the training program to the needs of his facility by choosing plant-specific transmitters, recorders and controllers. The Hampden ICS Training Simulators can also be made plant-specific in another way. If many different instrument brands are used throughout the plant - more than the number of panel-mounted instruments - interchangeable components may be the answer. Hampden will supply interchangeable instruments, mounted on modular panels in mobile racks. For example, a Foxboro d/p transmitter may be replaced with a Rosemount in just a few minutes.
Quick-Connect terminals for impulse piping and electrical wires permit fast and convenient substitution.
Hampden also supplies instrument test benches. These benches contain the air and electrical supplies, along with the instrumentation needed for the testing, calibration, maintenance, and repair of all types of instrumentation. Link to PDF File.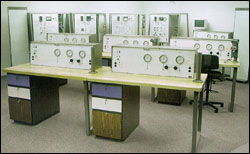 The Hampden Instrumentation and Controls Training Panels may be used individually or in various combinations.

Each panel is equipped with a PID controller, a three-pen recorder (for process variable, set point, and controller output), and ammeters to measure loop current. A different "controlling means" for pressure, temperature, flow, and level provide the greatest possible variety of learning experiences.
All four single process loop panels are mobile, as are the racks of auxiliary instruments. They can be located for the convenience of the student/trainees and easily relocated whenever necessary. They can be rolled into a classroom for demonstration, or moved from plant to plant as dictated by training needs.
In actual automation applications, few process loops stand alone; there is an interaction among variables. Hampden, therefore, equips each panel with quick-connect hose couplings. By interconnecting panels, students can see how the control of pressure affects flow, which may, in turn affect level; or how water temperature can introduce error into level measurements.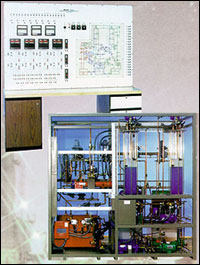 A second advantage to panel interconnection is the demonstration of more advanced control schemes, such as cascade, ratio, feedforward, and adaptive. For example, you can use the output of the flow controller as the set point input to the level controller in a cascaded configuration.
With the Hampden Instrumentation and Controls Program, individuals can be trained for several levels of expertise. Some may wish to concentrate on control theory and the tuning of controllers, while others may train as instrument maintenance technicians.
When specified, the Hampden ICS panels may be equipped with switches that permit the instructor to program faults into the system.
To accompany each panel, Hampden supplies a student manual that includes: a description of the process loop; start-up and check-out procedure; a discussion of the sensor and transducer; an explanation of control theory and tuning procedures; and the manufacturer's instruction manual for each piece of equipment.
The Hampden ICS panels are fully compatible with tutorial material published by a number of different organizations. Following is a partial list:
INSTRUMENT SOCIETY OF AMERICA (ISA), Research Triangle Park, NC, Video tapes; student manuals, instructor's discussion guide; and overhead transparencies.
GENERAL PHYSICS CORPORATION, Columbia, MD. Texts; laboratory manual and solutions; and instructor's lesson plans.
NUS TRAINING CORPORATION, Gaithersburg, MD. Video tapes; student manuals; and instructor's guide.
WALSH INSTRUMENTATION TRAINING, INC, Montreal, Canada. Video tapes; calibration, maintenance, and diagnostic workbooks; and instructor's guide.
LEIGHTON & KIDD LIMITED, Toronto, Canada. Video tapes; student manuals; and instructor's guide.
Hampden's Instrumentation and Controls Simulators contain the necessary computer interface for training in state-of-the-art distributed control systems. Hampden can supply the host computer (IBM-PC with 256K RAM, for example) or the customer's own host computer may be used.
From the computer workstation, the operator may monitor system parameters on a bar chart or in tabular form. Hard copy of desired data may be obtained when requested by the operator or initiated by a system parameters such as a high or low alarm. Computer interfacing may vary when plant-specific controllers are specified.
Following is a list of the data that may be accessed by the computer operator:
Measured Variable in engineering units
Set Point in engineering units
Deviation from set point
Controller output in percent
Alarm status

Proportional Band in percent
Integral (Reset) Rate in repeats per minute
Derivative (Rate) Time in minutes
Whether in Automatic or Manual mode
Whether Set Point is under local or remote control
Further, the operator can use the computer keyboard to accomplish the following tasks for each of the process loops:
Transfer Set Point control between local and remote
Change Set Point (in remote mode)
Transfer Controller between automatic and manual
Change Controller output (in manual mode)
Change Proportional Band

Change Integral (Reset) Rate
Change Derivative (Rate) Time
Change high and low Alarm trip points
Obtain periodic log printout
Obtain Alarm printout