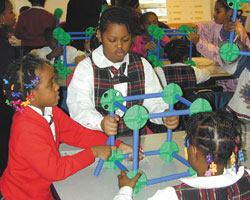 When we look at the high-tech world around us it is easy to lose sight of the underlying scientific principles that have enabled the technological revolution.
Our Applications of Science program has been specifically designed to provide elementary students with a range of hands-on experiences that help them explore the applications of science across a range of topic areas.
Hands-on student activities are supported by a range of multimedia computer-based explorers that provide scientific investigation and research.
Comprehensive student worksheets are used to help students develop their co-operative working and scientific experimentation skills. Teacher's guides provide a wealth of supportive information for each assignment as well as suggested group activities such as our SciTEK Science and Math challenges.
The Applications of Science program is an ideal classroom companion to our Living with Science program.
Our innovative product and curriculum design enables us to offer elementary education a learning experience that impacts on these key, cross curricular areas:
Reading and writing skills
Numeracy
Understanding of basic science
Team work
Communication skills
Coordination and motor skills
Problem solving
We offer the following Applications of Science modules:
Why Teach Applications of Science?
By the time students have completed our Applications of Science program they will have gained a range of competencies that include:
Manipulative skills
Cooperative learning
Research skills
Problem solving skills
Interpretation skills.
Technical reading skills
IT skills
Applied scientific skills