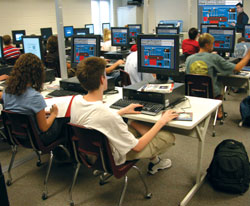 Combine the cost benefits of modular Technology Education with the educational benefits of teaching one subject to the whole class simultaneously.
By providing computer-delivered learning materials, practical hands-on activities, problem-solving, and design-and-make tasks, these new ScanTEK modules help students develop real hands-on skills.
Real depth and remedial support curriculum also help students develop much stronger academic skills.
Our new lockstep modules can be run:
Stand-alone, on single workstations for easy integration into existing programs.
Over a local area network for a managed, competency-based program of instruction.
Via the Internet for a truly flexible anywhere, anytime environment.
ScanTEK
Lockstep
Lesson Structures
Step One - Theory Presentation

An html overview is followed with a PowerPoint presentation that introduces the knowledge or skills that are covered by the lesson. This can easily be turned into a whole-class interactive assignment with the addition of our wireless classroom response system (SRS).
Step Two - Equipment Demonstration

Detailed html instructions lead the Instructor through a demonstration of the skills or principles that are incorporated in the lesson. Students get a real-world view of the material and tangible evidence of the theory. Students are asked to respond to a second set of questions at their computers.
Step Three - Student Activity One

Students follow html instructions at their workstation or printed instructions for group manipulative tasks. This is the opportunity for students to use the exciting range of on-screen simulators for a wide range of research or problem-solving activities. These assignments are continuously assessed.
Step Four - Student Activity Two

This is usually a problem-solving task based upon the skills demonstrated in the first assignment. Assessment questions are embedded in the task. There is usually some physical outcome to this task, using the equipment that is shown to the Instructor for authentic assessment.
Step Five - Lesson Assessment

This is a series of questions, presented to the student as an html, or paper based test. They are designed to assess the students understanding of the material covered by all four previous steps within the lesson and provide instant feedback regarding student performance.
Step Six - ePortfolio

Students keep an electronic record of their work throughout the lesson. This includes graphs, charts, diagrams, and program files. The final step in each lesson is the studentís written review. All this work is stored in the database and is used to form the studentís electronic portfolio.